Attention 6th Grade Parents, the beginning of the new semester starts Jan. 19. As such, there is an opportunity to switch your child's preferred program. Currently we have two programs. One is our online "Cave" program. In this program students work more independently with opportunities to check in with teachers twice a week if they need any help. These kids would remain online for the remainder of the year even if schools were reopened. The other program is our hybrid program. In this program students meet with each teacher for an hour-long class twice a week. Classes are set up as traditional classes with teaching and interaction between students. In the eventuality that schools open, the hybrid students would come back to campus for two days a week and work the remaining three days at home online. Your child has been participating in one or the other of these models. If you are happy with the option your child is working, nothing needs to be done, but if you would like to switch your child's program, we need you to call the school at 234-3316 by Tuesday Jan. 12th and let us know of your desire to switch.

Information about CSGA's Canned Food Drive, 11/9-11/13.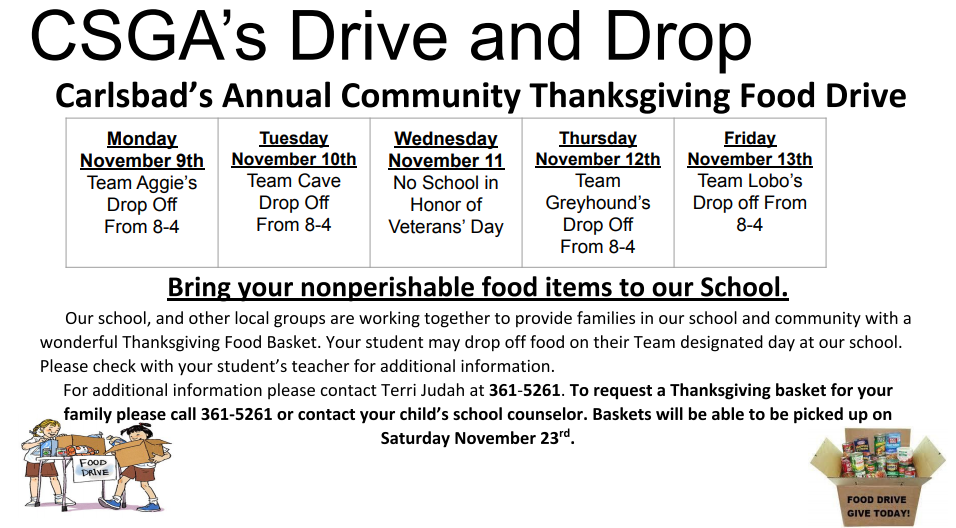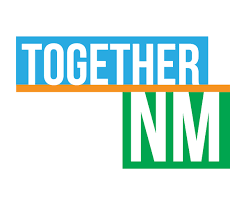 CSGA - The Roadrunner Food Baskets are here early. If you would like food, you can go to the high school now to pick that up. Please enter off 8th street.

CSGA - Here is a link to a YouTube video explaining how to get your child connected to a live tutor through Brainfuse:
https://youtu.be/BpOS6aMgsOE

Road Runner Food Distribution will be handing out food today 11/2/20 at the high school at 11:00. If you are in need of a box, please enter off 8th street. Thank you

Carlsbad Municipal Schools is not participating with any vendor providing gift cards or cash for survey completions. If you receive an offer from an education program offering a gift card or cash for completion it is likely a scam and we encourage you to not respond.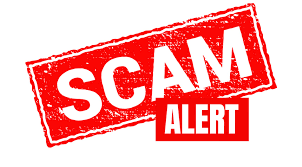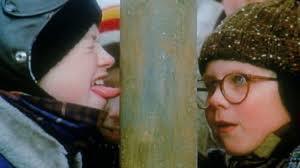 CSGA Parents - Here is some information regarding ENGAGE which is a student service program.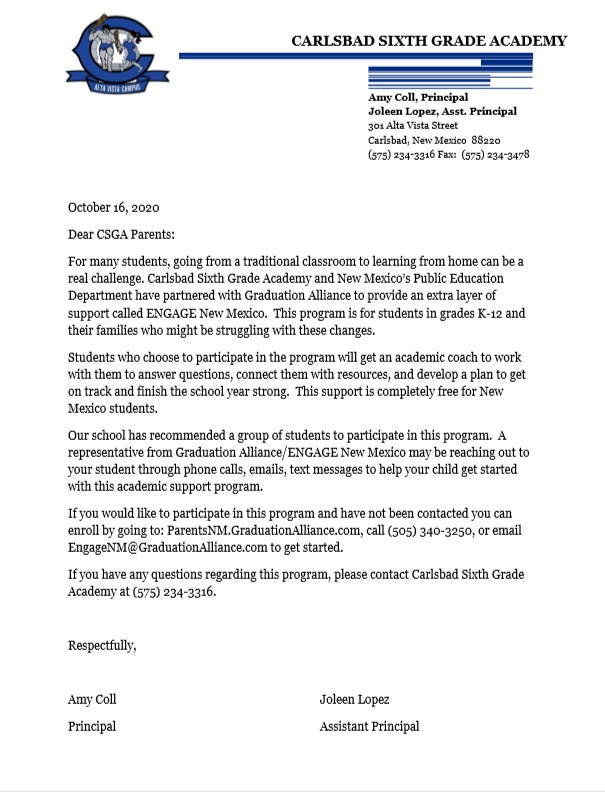 For many students, going from a traditional classroom to learning from home can be a real challenge. Carlsbad Municipal Schools and New Mexico's Public Education Department have partnered with Graduation Alliance to provide an extra layer of support called ENGAGE New Mexico. This program is for students in grades K-12 and their families who might be struggling with these changes. Students who choose to participate in the program will get an academic coach to work with them to answer questions, connect them with resources, and develop a plan to get on track and finish the school year strong. This support is completely free for New Mexico students. Your child's school has recommended a group of students to participate in this program. A representative from Graduation Alliance/ENGAGE New Mexico may be reaching out to your student through phone calls, emails, text messages to help your child get started with this academic support program. If you would like to participate in this program and have not been contacted you can enroll by going to: ParentsNM.GraduationAlliance.com, call 505-340-3250, or email
EngageNM@GraduationAlliance.com
to get started.

From CSGA: Monday, 10/12/20 represents Indigenous Peoples' Day. There will be NO SCHOOL for students and teachers/staff. Enjoy your 3-day weekend!

CSGA - Please remember we will have book pickup for English and Math books today from 4:30 - 6:30 in the East bus loop. This is for every student hybrid and online.

We will be passing out reading books and math books on Thursday, Oct. 1st from 4:30 - 6:30pm. Please use the east bus loop to drive up and stay in your car. Someone will bring books to you.

Roadrunner Food Baskets will be handed out tomorrow, September 23rd, at the Highschool as 11:00am. Please pick-up in student parking lot, enter off of 8th street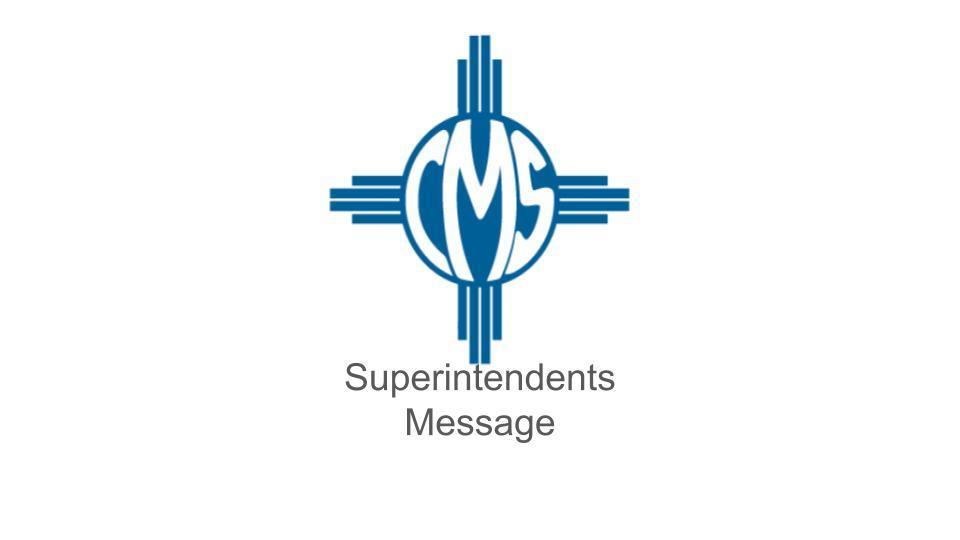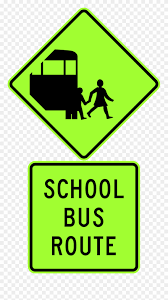 Our schedule will be changing a bit when we get back to school from the long weekend on Tuesday, September 8th. We are anticipating being in the remote learning environment for some time longer and are wanting to make sure we do not leave any students behind in this virtual world. Teachers will be meeting with periods 1,3, and 5 on Mondays and Thursdays and periods 2,4, and 6 on Tuesdays and Fridays. Your student will need log onto the computer at the appropriate class time and remain on the computer for the entire hour of instruction. This schedule only applies to hybrid students (or students planning to physically return to school when allowed to do so). Online students will remain using their previous schedule. On Wednesdays teachers will not have office hours or hold classes. Students will have time on Wednesdays to work independently on assignments provided by their teachers. We are still giving out lunches. We have shifted the lunch time slightly and it will be handed out from 9:45 - 11:15. This should allow you time after your child logs off with their teacher to come by the school and pick up lunch. Please remember to bring your child's school ID when picking up lunches.