Alta Vista: We have had many students wearing pajama bottoms to school. This is against school and district dress code policy. We will be asking any students wearing these to change as they will no longer be allowed at school. Thank you.

Now that the COVID challenge is nearing its conclusion we are in the process of recalling all Hot Spots that we handed out to Students, Staff, and Teachers. All students in grades K – 5 will no longer need the hotspots as their devices will be staying in the classroom. Students in grades 6 – 12, teachers, and staff who do not have WIFI at home are encouraged to fill out the following form, which will determine the necessity of continued use of the Hot Spot. Please note that as of Sept 12, all of those that have not filled out the form and received approval for continued use will have an interruption of service. If you no longer need your WIFI hotspot, please return the device to the front office of your school or your child's school.

Please see attached flier from Alta Vista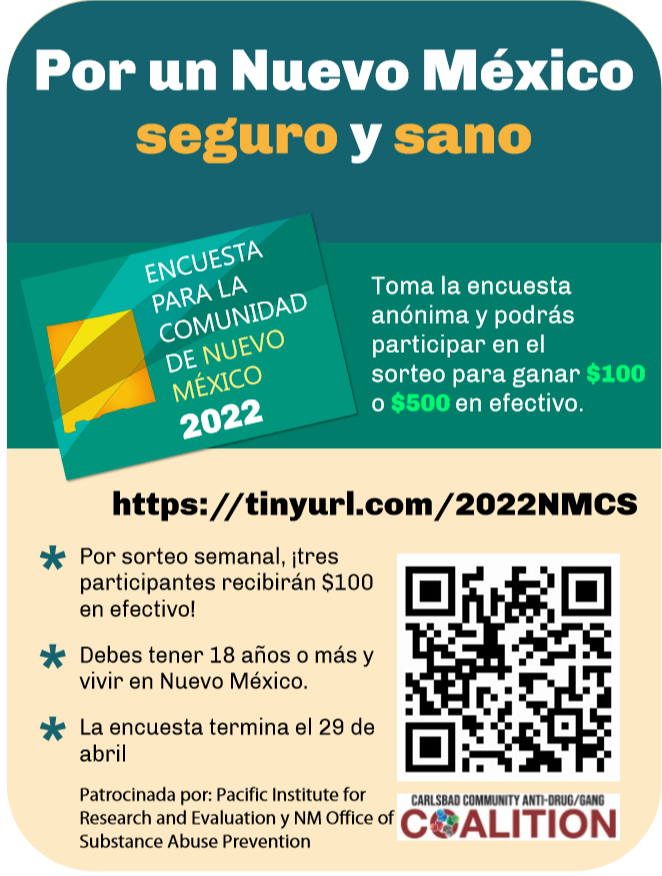 The bus #29 Secondary will not be running until 1/31/22 due to an additional positive Covid-19 case. Please make your own arrangements for transportation to school, and we apologize for any inconvenience this may cause.
Click this link (
http://pmg.app.perseus.id/div/carlsbad
) to register for COVID-19 drive through testing offered by Carlsbad Municipal Schools. Please see the attached flyer for more details.
Alta Vista Parents: Carlsbad Municipal School District participates in a required state survey on internet service and access to technology devices. We request you complete the survey and return it to your child's school. If you have any additional questions, please contact your child's school.

Alta Vista - On Friday we announced that we have had to cancel our dance scheduled for tomorrow due to number of COVID cases between staff and students. We will try to reschedule sometime in January if circumstances allow. Thank you.

Carlsbad Municipal Schools is currently out of Covid 19 testing kits and have had to temporarily close our testing site located at Edison Elementary, 406 N. Alameda. We will reopen this site as soon as we get more supplies. Please see your doctor for Covid 19 testing until we reopen. We apologize for any inconvenience.

Alta Vista - The school calendar has been revised. We Originally had off Thursday Nov. 11 for Veterans day. The district has decided to also give staff and students Friday Nov. 12th off with no school. So next week all students will be out of school the 11th and the 12th. Thank you.

Alta Vista - If you are attending tonight's Haunted house, please park on the North side of the building (the Boy's and Girl's Club Side). Cost for entry is $5 and it will be from 6-9. Thank you

Alta Vista - Parents, grades will be sent home with your student on Monday, October 18th. Thank you.


Alta Vista - Reminder for tonight's football game at the high school. For the elementary group: All students that come to the CHS football game must be supervised by an adult. Students will not be allowed to congregate with peers behind the bleaches. All elementary students must sit with an adult. For the secondary group: All HS students are to sit either in the student section or with an adult. HS students will not be allowed to congregate with peers behind the bleachers. CIS PR student seating will be in the metal bleachers on the home north side or with an adult. CIS AV student seating will be in the metal bleachers on the home south side or with an adult. Middle School students will not be allowed to congregate with peers behind the bleachers

Alta Vista - Due to some safety concerns and traffic flow issues, we will be changing the way students are dropped off in the morning. Starting tomorrow 10/7 we are asking parents to drive through the alley first and then drop off once at the gate much like we do in the afternoon when students are being picked up.

Alta Vista - As many of you may know, last week we lost a student due to tragic circumstances. We did have counselors available to speak to students. However, we are concerned that some students may not be seeking help in their grief. If your child is in need of support or would benefit from speaking to a counselor, please call the school at 575-234-3316, and we will make sure they get the support they need. Thank you.

Alta Vista - 7th Grades students may come pick up their schedule and practice with their lockers tomorrow, Thursday 29th, from 11-1. If your 6th grade student missed today's event, they may pick up schedules tomorrow from 11-1 as well.

School Supply List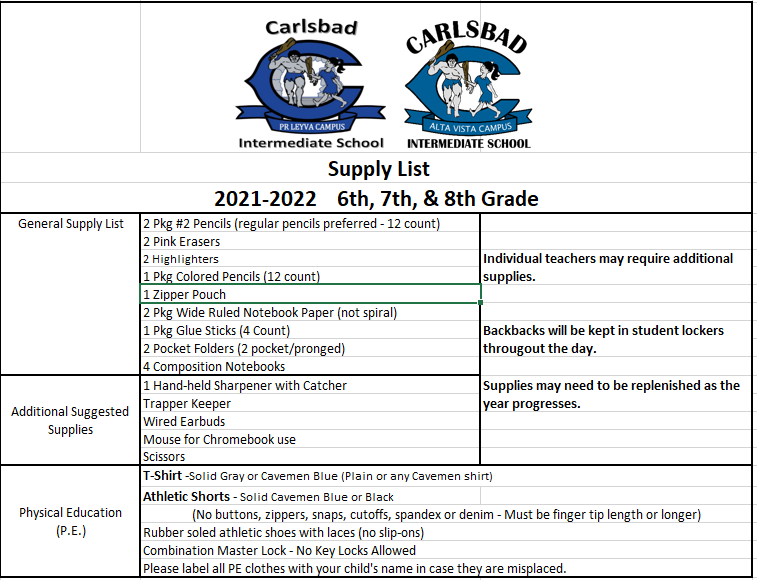 Please bring your 6th grade student to Alta Vista on Wednesday the 28th from 11:00am - 1:00pm and your 7th grade student on Thursday the 29th from 11:00am - 1:00pm to pick up their schedules, practice on their lockers, and have a look around campus.

Tuesday and Wednesday are early release days. Students will be dismissed at 12:25. Here is the schedule for the next two days. Class Entry/breakfast/mentor 8:15 – 8:30 1st period 8:30 – 9:00 2nd period 9:03 – 9:33 3rd period 9:36 – 10:06 4th period 10:09 – 10:39 5th period 10:42 – 11:22 Lunch 11:25 – 11:55 6th period 11:58 – 12:25 Los martes y miércoles son días de salida temprana. Los estudiantes saldrán a las 12:25. Aquí está el programa para los próximos dos días. Entrada a la clase / desayuno / mentor 8:15 - 8:30 1er período 8:30 - 9:00 2do período 9:03 - 9:33 3er período 9:36 - 10:06 4to período 10:09 - 10:39 5to período 10:42 - 11:22 Almuerzo 11:25 - 11:55 6to período 11:58 - 12:25